10 Acre Farmette Real Estate Auction Dekalb IL Sunday June 25th 1:00 p.m.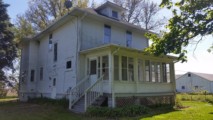 * FARMETTE REAL ESTATE AUCTION *  
The Following 10. acres with 2-houses and out buildings will be offered at Auction, Located on site at 5668, Rt. 38, Dekalb, Illinois.  Just 3 miles west of Dekalb, Illinois  
 SUNDAY JUNE 25TH @ 1:00 p.m.
This great country property located just 3 miles west of DeKalb, Illinois on State Hwy 38, Malta Township, DeKalb County.  This auction parcel contains 10 surveyed acres, has frontage by State Hwy 38. This ideal setting has been landscaped and planted with many fruit and evergreen trees. The property is improved with 2 homes, 2 wells and 2 septic fields. The Larger 2 story home has been updated with 200amp electrical, all conduit incased wiring, central air and has 2 1/2 bathrooms, 3 bedrooms, 5 panel doors hardwood floors, original woodwork trim, drywall along with a full basement and walk-up attic. A newer 3 car de-tached garage is next to this house. The smaller home located just west of the main house has 3 bedrooms, 2 baths, partial basement. All wiring has been updated here also with 200amp service, all conduit incased, drywall and newer windows upstairs. There is a wood framed older, 1 car de-tached garage. Both homes have been well cared for. The homes sell with all appliances, gates & barn items.
The 10 acres has many open areas, some of which is being row cropped farmed. The large yard area is great for gardens, play yards, livestock or trees. Outbuildings include a large wooden barn with loft, underground water lines, a large wooden storage shed with work shop area; corn crib and chicken house.
"Move-In Condition" Properties Zoned Ag with this location are very hard to find. If you want the charm of an older home with updates, and a place in the country to raise your family with space for animals or equipment, THIS IS THE REAL ESTATE OPPORTUNITY FOR YOU!  Call auctioneers any time to set up a viewing of this home and come with a vision to make this property yours. Interest rates are still low, so Talk to your Lender NOW.  And come ready to bid Your Price at Auction!
** OPEN HOUSE May 21st 1p.m. to 3p.m.**
Term's For Real Estate:  $10,000.00 down On Auction Day. Balance Due On Or Before July 31st  2017.  Deed Transfer, Title Commitment in Sellers Name and Survey Provided By Sellers. Tax parcel #07-24-200-005. Real Estate taxes will be pro-rated to closing.  Property Being Offered As Is, With Out Any Contingencies To Financing Appraisal Or Any Other Type Of Contingencies. Announcements Made Day Of Sale Take Precedence Over All Other. Almburg Auctioneering Inc. Steve, Andrew, Adam. 815-739-3703. 739-3771.         Color Pictures, maps and video on Our Website almburgauctions.com
 John D'Cruz, owner.
Ron Klein attorney for seller 815-7480-0380
Bidding on Real Estate at Auction
Here are a few things to keep in mind when buying real estate at auction:
All property is being sold as-is. Please inspect all the aspects of the property before you bid. You are welcome to hire or bring in any knowledgeable person to help you make an informed bid on the property. The only items the sellers are guaranteeing are a clear title, survey and transfer of the deed. The auctioneer may announce any changes to this on sale day.
This property is not being sold contingent to the buyer getting a loan or financing. All financial arrangements must be made before to the auction. $10,000 down on auction day. Personal checks for the down money are acceptable. Property can be shown at any time before the auction by contacting Almburg Auctioneering at 815-739-3703.
All interested in bidding on the real estate should arrive at least 15 minutes before the offering and register with the auction staff at the office and obtain a bidders card. You will use this to signal to the auctioneer that you are bidding on the property. The auctioneer will use his discretion as to the bid advancements and pace of the auction. There is no minimum opening bid… or maximum ending bid…. All bid advancements are at the discretion of the auctioneer.
During the auction the auctioneer may or may not call a recess at which point he will have a private meeting with the owners of the property and present the high bid to them. Please keep in mind that the real estate is not sold yet, the high bid is merely held and as in any real estate transaction the sellers have the right to accept or counter the high bid. If the sellers are satisfied with the bidding the auctioneer will come back to the auction block and convey to the bidders that the bidding will be opened up to all and continue. If the auctioneer doesn't receive any more bids, the real estate will be sold or the high bid established at the recess.
If the sellers reject the high bid, the auctioneer will return to the auction block with a counter offer from the sellers, and the person with the high bid has the fist right to raise their bid to meet the seller's amount. If the bidder agrees to do this, the property is sold at that time and is not opened up for more bidding. For this reason we encourage you to be the high bidder at the call of the recess.
Thank-you for your interest in this property. Talk to you lender and be ready to bid take advantage of this property by bidding your price at auction. Please call on any of the Almburg Auction Staff to answer any questions
  GOOD LUCK!!