Real Estate Auction Thursday September 7th 6:00pm Dekalb IL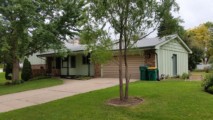 * REAL ESTATE AUCTION *
The following Real Estate will be offered at Public Auction, Located at 1205 University Drive, DeKalb, Illinois.
Thursday Evening September 7th Offered at 6:00 p.m.
This spacious Tri-Level home has 5 bedrooms, 3 full baths and an attached 2-car garage. Located off Annie Glidden in a quiet subdivision just at the north edge of the NIU campus; this property would make an ideal home for anyone working at or attending NIU. The home has many features including renovated kitchen and bathrooms. The home has hardwood floors throughout, ceiling fans in the bedrooms, 2 central air units and 2 furnaces, and a large basement with work sink, storage, and crawl space. The home also has a side entrance leading to the lower level living space that would make an ideal apartment with its own full bath, living room with fireplace, a laundry area, and space for a kitchen.
This home also has a nicely landscaped yard with a raised garden, cement patio in the back and also a cement driveway and sidewalks leading to both entrances. You could enjoy it immediately or make any type of cosmetic updates you may want. This property sells with all appliances! Call auctioneers any time to set up a viewing of this home and come with a vision to make this property yours, Property Tax ID #08-16-428-002. Talk to your Lender NOW. This would make a nice investment property or family home. A great location within walking distance to NIU, tucked away in a quiet area.
Terms for Real Estate: $5,000.00 down On Auction Day. Balance Due On Or Before September 29th 2017. Deed Transfer, Title Commitment in Sellers Name Provided By Sellers. Property Being Offered As Is, Without Any Contingencies To Financing Appraisal Or Any Other Type Of Contingencies. Announcements Made Day Of Sale Take Precedence Over All Other. Almburg Auctioneering Inc. Malta, IL. Color Pictures on Our Website Almburgauctions.com. Steve, Andrew, Adam Almburg 815-739-3703.
Mel & Claire Duvall, owners
Jeffery Lewis Attorney for Sellers 815-748-0380
Almburg Auctioneering. 815-739-3703
Almburg Auctioneering. 815-739-3703