Pallet Company Liquidation Auction Saturday October 7th, Poplar Grove IL 10AM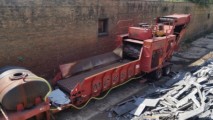 * LIQUIDATION EQUIPMENT AUCTION *
The following Equipment from Forrest Pallet will be sold At Auction to the Highest Bidder at No Reserve, Located AT 290 EAST PARK STREET, POPULAR GROVE, Illinois (Watch For Almburg Auction Signs.)
SATURDAY OCTOBER 7TH 2017 Starting At 10:00 A.M.
* TRUCKS * SKIDSTEERS * FORK LIFTS * TRAILERS
Click below to bid and watch online!
http://auction.almburgequipment.com/AuctionCastBoard/Default.aspx?MATEventID=21544989&THEventID=21544989&TRKEventID=21544989
Bobcat 873 Skidsteer, runs and operates, has hyd oil leaks that need to be addressed. Solid tires
Bobcat 7753 Skidsteer, not running at all, didn't even try to start it.
Bobcat 873 Skidsteer, runs and operates, has engine oil leak that needs to be addressed. Solid tires.
Nissan 25 LP Gas, Hard Tire Forklift, Runs Good, sid shift, 3,000lb lift, good forks.
Nissan 15 LP Gas hard Tire Forklift, Runs Good, side shift, 2,000 lift, good forks.
John Deere 644B Loader, Large bucket, cab is rough, doors bent, engine runs good, tire leaks air, brakes work, trans seems ok, heavy leaks of Hyd/trans oil, needs some TLC.
Clark LP hard tire forklift, not running, complete with madt and forks.
2002 Freightliner Columbia Truck, Twin screw, Sleeper, W/ Cummings N-14 Celect Plus engine, 10 speed, needs tires and other items to pass DOT. Was on the 2 years ago.
1996 Freightliner FDL Truck, twin screw, W/ Detroit 60 Series Motor Walk in Sleeper. 8 Speed LL, needs tires and other items to pass DOT. Was on the 2 years ago.
2000 Freightliner FL-70 Business Class Truck 6 speed, With 16ft Steel Box And Hoist; Air brakes, solid box and hoist that work, Has bad, engine oil leak , Clutch, trans and brakes seem good; 1998 Chevy 1500 4×4 Pick-Up Truck Ext. Cab 2001 Chevy Suburban 4×4, runs, Just moves in 2nd and 1st and reverse, couldn't get 4 wheel drive engaged.
Roto-Chopper MC-256 Large Commercial Pallet & Wood Chipper Machine On Semi Trailer. W/Cat 3126 Engine, this unit was in use 2 years ago, operates and runs.
23 Van Box Semi-Trailers For Storage, Storage Trailer Use Only, no titles. Most are 53ft. Older East 22ft Aluminum Dump Trailer, poor condition, no title; 53ft Walking Floor Van Trailer, no title, open top, poor condition; 53ft van trailer, no title, Landing gear on trailer is broken off. This trailer has heater unit, Set Up For Kiln Drying of Wood.
SHOP EQUIPMENT * OFFICE EQUIPMENT Commercial Quincy Qt 15 Air Compressor; Commercial Band Saws For Making Wood Pallets; Pallet Repair Systems machine, Rotary table; Thousands Of Pre Cut Wood For Making Pallets; Steel work and lay out tables; Along With Lots Of Pallets All Sold In Bulk. Lots Of Tools, Parts And Equipment Used In The Operation Of Pallet Manufacturing. Several office desks, files, computer copy machine, table and chairs, Break room mini fridge microwaves, other misc. office supplies.
Pre-Auction Inspection Friday October 6th 10 A.M. T0 3 P.M.
Terms: 10% Buyers Premium On All Items Sold. We will have Live on line bidding also Thru Bid Caller. Go to almburgequipment.com web site to register any time BEFORE AUCTION DAY!, click on the Forrest Pallet link and follow the prompts, its that easy! Loading Available Sale Day Other Times By Arrangement. All Items Must Be Removed For Sale Site Before October 12th 2017. All Items Sold As-Is. Cash, Check. Credit Cards w/ 3% convenience fee added. All Items Settled For On Auction Day. Not Responsible For Accidents, Injury or Theft. Videos & Pictures @www.almburgalmburgauctions.com Spare Time Lunch, Yummy!
Almburg, Auctioneers. Malta, Illinois. Andrew, Eric, Adam, Steve. 815-739-3703, 815-739-3771
ASSETS OF FORREST PALLET