Estate Auction Mercedes*Coins*Jewelery Antiques Sat. October 21 Sycamore IL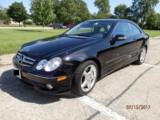 *MARLYN LENSCHOW BURKART ESTATE AUCTION*
In Order to Settle the Estate of Marlyn Lenschow Burkart, The Following Cars, Jewelry, Coins
& Personal Property Will Be sold at no reserve to the highest bidder, Located on Site at 125 Turner Place, Sycamore, Illinois. Watch for Almburg Auction Signs off Somonauk Street.
Saturday October 21st Starting at 10:00 a.m.
Mercedes Cars * Collector Coins * Diamond Jewelry * Furniture * Collectables
2009 Mercedes CLK 350, 2 door Black Sedan. This gorgeous car has only 31,735 one owner miles! 3.5L, 7 speed touch shift auto, AMG Sport Pkg, heated leather seats. Call Andrew Almburg, 815-739-3771 for pre-auction viewing. Car sells at 12 noon.
2007 Mercedes SLK 280 2 door Red Convertible. This head turner has 56,937 One Owner miles! 7 speed Auto, 3.0 24 valve V-6 engine, retractable hard top. Call Andrew Almburg, 815-739-3771 for pre-auction viewing. Car sells at 12:07p.m.
1995 Dodge Magnum Van, This full size van is in great shape, no rust. Van has 113,287 miles. Call Andrew Almburg, 815-739-3771 for pre-auction viewing Van sells at 12:15p.m.
Coins, Jewelry and Collectibles:
Rolex Oyster Perpetual Date Just Women's watch w/10 diamonds;1.5 ct Marquise shaped cut yellow diamond ring w/ 48 bead set round brilliant cut diamonds, Marquise Emerald ring; 10 Prong set brilliant cut diamonds; Eight prong baguette cut diamonds; other nice jewelry, rings and others. Jewelry sells after cars at 12:25p.m. 1909 $5.00 Gold piece coin; lots of Morgan, Peace, & Ike Silver Dollars, One Dollar Black Eagle Silver Certificate; other Half dollars, 1852 3 cent piece and other US collector coins, Go to our web site for complete list of coins and years. Coins sell after Jewelry. We will have several of Marlyn's Mink & Beaver Fur coats, Jackets & Stoles. Very large Sea Shell collection, all types; Vintage women's hats in original boxes; Lots of great art work, oils and prints; Black Forrest Cuckoo clock w/ double birds; Vintage furniture from chairs to sofa's; Several floor and table lamps; Antique berry bowl set; 8 gallon crock; Wooden Croquet set; other older sporting equipment, fishing, golf, ice skates, & guitar; Bose sound system, karaoke machine; Like new gas grill; Lots of yard display items; Bing & Grondahl Christmas plates 1969-1980; Precious Moments, clowns, Collectible cookie jars; Bed, table & bath linens; Vintage child's roll top desk; Blondwood bedroom set; Life size Navy Doll; 32" TV; 7 piece Sterling Silver set; Sycamore & Pumpkin Fest memorabilia; Pride Mobility Go-Go scooter, brand new still in box; 7 piece dining set, table, chairs, buffet, hutch; Lots of knic-knacs, figurines, house wares, kitchenware and other items of interest and collectability. Terms: Cash, Checks, Credit Cards w/ 3% convenience fee added to amount charged. Not Responsible For Accidents, Injury or Theft. Announcements made sale day take precedence over all other advertisement verbal or printed. All items must be removed on sale day.
Fur coats, Just back from the cleaners. size Medium. Beaver and Mink Jacket w/ removable hood, White Mink w/ Fox Trim, Brown 3/4 mink w/ Martin Trim, Black Ranch Mink Jacket,
Ranch Mink Vest, Black Mink & Leather Jacket, Coyote Coat, Red Fox Full Length Coat, White Rabbit Stole.
**Auctioneers note : Marlyn was a Sycamore Icon and her love of the Majorettes is well known across the United States. Many of her items being sold are one of a kind. This is going to be one of those great Estate Auctions. Make plans now to attend. We welcome you to share your memories and bid on some great items. We will also be offering The Real Estate located at 125 turner Place, Sycamore, Illinois on Nov. 11th. Watch for listing, open house and terms.
Almburg Auctioneering Inc., Auctioneers, Malta, Il. 815-739-3703.
Steve, Andrew & Adam Almburg Auctions. Pictures on web site www.almburgauctions.com
Estate of Marlyn Lenschow Burkart
Coin Inventory (some newer coins will also be added)
Morgan Silver Dollars 1882-1900 (qty 8)
Morgan Silver Dollars  1921 (qty 9)
Peace Silver Dollars 1922-1926 (qty 22)
Eisinhow Dollar Coins (qty 9)
Zinc War Pennies 1943 (qty 8)
Franklin Silver 1/2 Dollar 1948 -1950 (qty 3)
Kennedy Silver 1/2 Dollar 1964-1969 (qty 15)
Washington Silver Quarters 1935-1951 (qty 25)
Buffalo Nickels (qty 24)
Kennedy 1/2 Dollar (qty 33)
Bicentennial 1/2 Dollars (7) & Dollar (1) (qty 8)
Sacagawea Gold-Clad Dollar Coins 2000 P (qty 24)
Haven't confirmed mint location on the following:
1850 Copper Penny (qty 1)
1914 Silver Dime (qty 1)
1900 Barber Silver 1/2 Dollar (qty 1)
1907 Barber Silver 1/2 Dollar (qty 1)
Standing Liberty Silver Quarter (qty 4)
1852 Silver 3-Cent Piece (qty 1)
1914 Barber Silver Dime (qty 1)
Indian Head Penny 1884-1903 (qty 3)