Late Model Farm Equipment Auction Creston IL March 24, 2018 10AM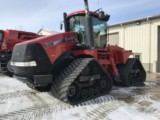 Having decided to consolidate our equipment lineup for 2018, we will sell at Public Auction the following described excess farm equipment and farm related items. This Auction will be held on site at 5931 South Woodlawn Road, Creston IL 60113 The auction site is located at the North East corner of IL RT#38 and Woodlawn Road in Creston IL. Watch for Bearrows Real Estate & Auction signs from Rt. 38 & Woodlawn Rd. For More information, contact the Auctioneers and to sign up and Bid Online live stream click the link below.
http://auction.almburgequipment.com/AuctionCastBoard/Default.aspx?MATEventID=23914657&THEventID=23914657&TRKEventID=23914657
Tractor, Combine & Heads
2013 Case IH 600 Quad Tractor, SN# 134501, PTO, 5 Valves + power beyond, High Velocity Lights, 3097 Hours, 36" Tracks;
2015 Case IH Magnum 340 Tractor CVT, SN# 1998, 2279 Hrs., 50" Rubber, 38" frts., duals, PTO & quick hitch; Set of 38090-R54 Duals;
2013 Case IH 9230 Combine, SN# YDG220751, 1349 Separator Hours, 1768 Engine Hours, 42" rubber;
2014 Macdon FD75 Draper Header, 40ft.;
2008 Case IH 2020 Platform, SN#41109
2013 Geringhoff North Star Elite 12 row folding head;
Unverferth HT-30 Head Cart; Unverferth AWS 36 Head Cart; Unverferth AWS 42 Head Cart;
Farm Machinery
2011 Case IH 1250, 24 row planter, w/500 gal. starter package and trash wheels
Kinze 1050 Soft tread Grain Cart, roll tarp, scale and updated Grizzly auger lock
2015 Case IH 875 Ecolo Tiger 11 shank 22 Ft. Disk Ripper w/Down pressure rolling basket
JD 3710 – 7 Bottom on land plow; 2-Case IH 496 32' Disks, 1-7½" 1-9" spacing; Parker 1550 Weigh Wagon #1273 with gas motor; 2012 Case IH 330-32ft Turbo Till; John Deere 2310 Mulch Finisher, 45'9" w/5 bar drag; Case IH 183 & 830 12 Row flat fold Cultivators; 2008 DMI 5300, 47.5ft NH3 Tool Bar with dual tank Hiniker Monitor System; 2008 Loftness 8ft. Model 962H snow Blower (Like new); 2012 Bonnell 272 Perfect Road Maintainer (Used very little); JD 1560, 15′ grain drill, 7½" spacing, w/Yetter markers, factory drive disconnect, updated rockshaft & tarp; 30′ x 24" SS field loader belt conveyor, 15HP electric motor, power drive wheels(for unloading hopper bottoms); 24" x 60' SS belt conveyor, w/15HP electric motor, (Both these conveyors used less than 1 year).
Semi Trailers
2-2006 Hilbilt steel Dump trailers, 22ft., ¼ Frame, 1-with blacktop insulation, 1 with roll tarp and 1-with accordion tarp;
2015 Coras Dump Trailer, ¼ frame, Blacktop Pkg;
2-2003 Wilson 43′ Hopper Bottom trailers, spring ride, Strap Doors, roll tarps;
2-2005 Wilson 43′ Hopper Bottom Trailers, spring ride, strap doors, roll tarps;
2-2004 Transcraft 48′ x 102″, straight deck, spread axle air ride Flatbed Trailers, with sliding ratchets;
Click below for Bank letter form.
Bank Letter of Gaurentee
TERMS: Cash or Check w/ driver's license I.D., VISA, Master Card, Discover or American Express. Bank letter of credit required for items over $10,000.00, (available on our web site) – Electronic clerking system used. No Buyers Premium, Announcements made the day of auction take precedence over all prior advertising. Not responsible for accidents or items after sold. Davidson Farms – Creston Auctioneers: John Bearrows 815-739-9150 – Josh Hickey 815-739-1030 Steve Almburg 815-7393703 / Andrew Almburg 815-739-3771