3 Day Auction! Day 1 Friday May 18 Shop Tools, Lawn & Garden, Trailers Dekalb IL10:30 AM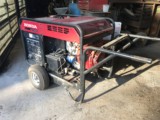 Day 1 of a 3-DAY ABSOLUTE NO RESERVE ESTATE AUCTION* May 18th,19th ,20th
ITEMS SELLING FRIDAY MAY 18TH STARTING AT 10:30 A.M.
In order to settle the Estate of Russell "Russ" Roland, The Following Items Will Be Sold To The Highest Bidder At No Reserve, at the Roland Family Farm, 6430 South Malta Road, DeKalb,Illinois. Located 2 miles west of the intersection of Annie Glidden Road and South Malta Road. Off road parking for trucks and trailers. 3 Motels located 3 miles from Auction. (Pre Auction Viewing Fri. May 18th 9 am-7pm)
*FARM TOOLS *COUNTRY COLLECTIBLES * FARM PRIMITIVES *MACHINING & SHOP TOOLS*                                                                                                                                       We will have several hay racks loaded with shop and mechanics tools; Hand Power tools; yard and garden tools; Craftsman metal lathe; drill press; band saw; grinders; drills; vises; work benches; storage cabinets; Hand corn sheller collection; Restored Sandwich corn cutter; Restored Sandwich Corn King; Restored ear Corn cutter, by Sandwich complete; Restored 2 Hole corn sheller, pulley driven; Restored Philadelphia Enterprise Grinder; Original crank grain cleaner; Cast and Steel Implement seats; old wheels and rims; old farm & garden gates; old wood; And many more Farm Primitives & other items of collectability to numerous to mention.
MECHANICS TOOLS * POWER TOOLS *                                                                                                                                                                                                                                MAC TOOLS Mac, Snap On & Craftsman Tools (wrenches, socket, ect); Mac Tool Chest; Misc. Mac Impact Sockets; Snap On ¾ Impact Sockets; Snap On ½ Drive Impact Socket, Complete Set; Air Tools (Impacts, Chisel, Grinders; Wooden Machinist Chest; Industrial 20 gallon Air Compressor 135psi; Craftsman ½ hp Drill Press; Dayton 6×9 Belt Sander; Dewalt DW735 Planer – Like New; Craftsman 2 speed 12" Band Saw; Dewalt Power Shop radial arm saw; Powermatic Planer; Porter Cable Dovetail Box Jig; Miller Thunderbolt XL AC/DC Stick Welder 220v; Shark Pressure Washer;2 ton Central Hydraulic Cherry Picker; Milwaukee 9" Hand Grinder; Dewalt Hand Held Planer – Like New; Dewalt Hand Held Power Planer Joiner – Like New; Milwaukee 14" Chop Saw; Milwaukee 18v Cordless Drill, Extra Battery; Dewalt 20v Cordless Drill, Extra Battery; Mag Torch Set; Mac Tools Complete Metric Tap and Die Set 3-24mm; Delta 12" Portable Planer; Milwaukee Portable Band Saw – Like New, Extra Blades; Delta 18" Scroll Saw; Powermatic Drum Sander; Craftsman Lathe with Multiple Chucks and Jaws; Complete Hole Saw Bit Set in Box; Schumacher 300amp Battery Charger; Overland Sign; Fischer Anvil; Craftsman metal Lathe.
TRAILERS * FARM AND GARDEN EQUIPMENT *                                                                                                                                                                                                                 Royal 5×12 Enclosed closed Cargo Trailer with Swinging Door; 16×6 Tandem Axle Trailer with 2 ½ ton Winch. Honda EB 11,000 Generator, Electric Start, Gas, 85 Hours, 120&240v. DR (XR 1650)Electric Start Stump Grinder – Only Used a Couple Times. DR Professional Trimmer, Electric Start, Many Extra Parts; Stihl MM55C Rototiller.; 2 – Hayracks; Belt Run Band Saw; Sawn Barn Lumber. *TERMS FOR AUCTION: Cash, Check, Credit Cards (With 3% Administrated Fee added to purchase) All items sold as-is, where-is. Not responsible for accidents injury or theft. No item removed until paid for. Any item bought must be paid for same day. Almburg Auctioneering Inc., Malta, Il. Steve, Andrew, Adam, Eric. 815-739-3771. Joel Prestegaard Auctions 815-761-7426. Forklifts standing by all 3 days. Lunch by Cliff' Donuts, Yummy!!. Pictures And Videos at almburgauctions.com. Auctioneers Note: Russ was well known as a top notch John Deere mechanic, machinist, Gas engine collector, great neighbor and friend. This will be one of those auctions you will not want to miss! Bring your trucks trailers and a friend! Plan now on attending all 3 days.
Estate of Russell "Russ" Roland