Farm Equipment Auction April 21 2018 Hampshire IL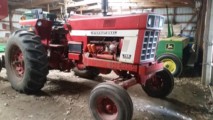 *FARM EQUIPMENT ESTATE AUCTION*
In Order To Settle The Estate Of Cleo Van Vleet, The Following Farm Equipment, Country Collectibles And Farm Primitives Will Be Sold At No Reserve To The Highest Bidder At Auction Located On Site At 47w599 Terwilliger Street, Hampshire, Illinois. Just North of Rt. 72 In Hampshire at State Street, To Terwilliger. Watch For Almburg Auction Signs.
Saturday April 21st Starting at 10:30 a.m.
IH 766 diesel tractor, 5,466 hrs, wide front, 3pt, PTO, Ser.#12405
IH Super MTA tractor, Ser#67466, runs, narrow front, PTO, Hyd, fenders.
IH MD tractor, not running, Narrow front, good rubber, Run on gas & diesel
IH 560 Diesel tractor, Schwartz wide front, good rubber, runs.
IH 560 gas tractor, with IH 233 mounted picker. Stored inside, tractor and picker in very good shape will be sold as 1 unit. Would make a nice combo for a harvest day show.
John Deere 327 baler w/ kicker; 3- 9×16 bale racks, w/ steel sides; NH Super 717 chopper w/ hay head; 2- Gehl silage wagons, front unload; 2- Ficklin side dump gravity wagons; NI 180 bu. Manure spreader; NI 5 wheel hay rake; IH #370 12ft wheel disc; Glenco 15ft field cult; IH 55 wire tie baler w/ IH 4 cyl engine, a Classic!; IH #60 plow; NH 5 bar hay rake; Older Oliver grain drill w/steel wheels; 4 row Noble cult; Kewanee 54ft PTO elevator w/ lift, stored inside; JD 75ft bale conveyor located under barn roof;
DAIRY & Barn Equipment: Badger 14ft silo unloader; Badger 40ft feeding conveyor with cement bunks; 400 gal. S.S. DeLaval bulk cooler; DeLaval #76 vacuum pump; 20-2×8 cement forms; Hay rack loaded with older farm collectibles, Some Household items and hosewares, Other misc. Iron and farm implements. Terms: Cash, Checks, Credit Cards with 3% convenient fee added to all charge card usage. Almburg Auctioneersing will provide free loader service, Bring your trucks and trailers. Not Responsible For Accidents, Injury or Theft. Almburg Auction, Malta, Il. 815-739-3703. Steve, Andrew, Adam. Check out the Pictures on web site www.almburgauctions.com
Estate of Cleo Van Vleet