Farm Equipment Estate Auction Union IL July 28 9:30 AM start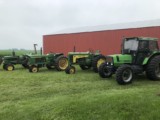 *FARM EQUIPMENT ESTATE AUCTION*
In Order To Settle The Estate Of Chuck and JoAnn Dollman, The Following Farm Equipment, Country Collectibles And Farm Primitives Will Be Sold At No Reserve To The Highest Bidder At Auction Located On Site At 7416 Dunham Road, Union, Illinois. Just North of Rt. 20 on Coral Road. Watch For Almburg Auction Signs.
Saturday July 28th Starting at 9:30 a.m.
Deutz-Allis 7085 diesel tractor, MFWA, This tractor is a one-owner and has only 1980 hours. 3pt, 540-1000 PTO, cab with radio, heat and non-working AC. Very good shape.
John Deere 2510 gas tractor, Narrow front, syncro range, 3pt, pto, only 3776 hrs. Very good condition, Sells w/ JD #10 side mount sickle mower. Works great. Ser#015835.
John Deere 630 gas tractor, Narrow front, flat top fenders Ser#2273. Tach shows 3599 hrs. Good original, one owner tractor. Ser#6302273.
John Deere 2640 diesel tractor, Sells with JD48 loader, 3pt, dual hyd, 540 PTO. Judst had the Trans rebuilt. Runs Great., Good rubber Rear weights.
Simplicity 16h.p. Riding Lawn Tractor w/ mower deck, Runs great.
*FARM EQUIPMENT* New Holland 258 Rolabar hay rake, Just like new, very little use; HayRite 35ft mobile bale conveyor w/ electric motor drive, just like new very little use; Case-IH 8330 mower conditioner, new sickle bar; New Idea mounted picker, came off JD 630 tractor; 2-Killbros 350 side dump gravity wagons, on JD1065A gear and New Holland 806 gear; 2- Gehl 970 Forage wagons, side unload, steel sides and roof. One on tandem Gehl gear one on Single Gehl gear; Like new Woods Cadet 72 3pt mower; Winn-Power 12/20 PT2 PTO farm Generator; New Idea 180 bu. PTO spreader; New Holland 717 Super chopper, 1 row, w/ hay head; IH 720 4-16 plow, toggle trip; JD 4 row RM 3pt cult; MM 10ft grain drill; JD 963 running gear; Hay rack; 2 section drag; Milking equipment, Stainless bulk tank; pipeline system; Hay mow bale conveyor; old dismantled windmill; Hay rack full of farm tools, supplies milk cans and Iron pile of scrape.
*Household Items * Country Collectibles * Farm Primitives* 2 Vintage Tin RC Cola Road Signs Approx. 4ft Tall; Old Tin Beer Sign; Farm Toys; Longaberger Baskets; Old Milk Cans; Old Schwinn Bicycles; Stainless Milk Pails; Old Implement Seats; Old Hand Farm Tools; New Idea Hand Corn Sheller; Wooden Pop Cases; Hay Rack Full Of Old Farm Primitives. Nice Furniture Including A Oak Dining Table W 6 Chairs; Glass Hutch With Buffet Storage; 2 Nice La-Z-Boy Chairs; Drop Leaf Table; Several Dressers; Floor & Table Lamps; Redwing China Set ; Good Refrigerator; Several Odd Chairs; End Tables; Cooking & House Wares; Exercise Equipment; Shelves & Storage Cabinets; Old Trunk. Auctioneers Note: Mr. Dollman has been on this farm since the 50's. A good neighbor and Dairy Farmer. Lots of nice items on this auction. Not many auctions like this around anymore. Plan now on joining us. Terms: Cash, Checks, Credit Cards with 3% convenient fee added to all charge card usage.
Almburg Auctioneersing will provide free loader service, Bring your trucks and trailers. Not Responsible For Accidents, Injury or Theft. Almburg Auction, Malta, Il. 815-739-3703. Steve, Andrew, Adam. Check out the Pictures on web site www.almburgauctions.com
Estate of Chuck & JoAnn Dollman