Tool & Dairy Equipment Auction Aug 25 9:30 AM Hampshire IL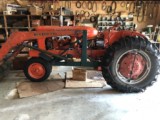 TOOLS & DAIRY EQUIPMENT PARTS AUCTION
Since we have decided to retire after serving the dairy farmers for over 40 years, Ed and Al will sell at a no reserve auction all of the shop tools, supplies and equipment belonging to Hennig Dairy Supplies, located at 214 Mill Street, Hampshire, Illinois. Just east 3 blocks of Main Street. (Watch For Almburg Auction Signs)
SATURDAY AUGUST 25TH Starting at 9:30 a.m.
Tractors & Tools Restored Allis Chalmers WD with a WD45 Engine. Tractor Runs Great! Has Great Rubber & Paint. Tractor Will Be Sold With A New Idea 501 Hyd Loader; Allis Chalmers 2-14 plow; Cub Cadet 1450 Hydro Lawn Tractor W/ Mower Deck; Sears ST-10 Lawn Tractor W/ Mower Deck; John Deere RX75 Riding Mower 9 h.p. W/ Mower Deck, All Run & Operate Fine; Owens 6×12 Single Axle Tilt Top Trailer W/ Title; Cutting Torch & Cart; Battery Chargers; 30 Ton Hyd Press; Chop Saw; Drill Press; Small Cement Mixer; Heavy Duty Large Floor Jack; Ridged 300 Pipe Threader W/ Extr Head; Oster Pipe Master Threading Machine; Other Pipe Equipment And Tools; Grinders; 2-Roto Tillers; Vise, Werner Ext. Ladder; Electric Motors; Motor Pulleys And Display Rack; Hole Saws; Lots Of Great Wooden Bolt & Parts Bins; Storage Shelves; Tool Boxes, Lots Of Hand Mechanic's Tools; Work Bench; we will have several hay racks loaded with Many More Hand Tools & Hardware Items. Dairy Suppilies & New Old Stock. Misc. Patz Silo And Chain Equipment; Lots Of New Connecting Link Chain Bearings; Delaval Dairy Parts; Milkers; Pipeline Items; Milk Transfer Items; Milk Pumps; Large Assortment Of Dairy Supply Books, Manuals & Parts Books; Old Delaval Tin Sign; Lighted Delaval Wall Clock; Lots Of New V-Belts; Parts Bins & Shelves Loaded With Small Parts & Supplies. We Will Sell Sections At A Time Or Choice Items Out. And Much More.. Come Out And Join Us For This Auction & Say Farwell To Al And Ed Who Have Served You & The Dairy Supply Industry For Over 40 Years.
** TERMS: Credit Cards, Cash, Check, 3% Convenience Fee On All Credit Card Usage. Nothing Removed Until Settled For. Not Responsible For Accidents, Injury Or Theft. Announcements Made Sale Day Take Precedence Over All Other Advertisement. Many pictures and video on our web site at www.almburgauctions.com Almburg Auctions 815-739-3703. Steve, Andrew, Adam Almburg.
                         HENNIG DAIRY SUPPLY