Estate Auction of 2008 Dodge truck, MAC tools Saturday Oct, 27th 9:30 AM Sugar Grove IL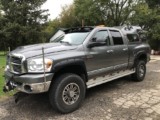 *LARGE ESTATE AUCTION*
In Order to Settle the Estate of Steve Koz, The Following Mac tools, trailers and shop equipment Will Be sold at no reserve to the highest bidder At Auction Located on Site at 4S917 Harter Road, Sugar Grove, Illinois. Off road parking available, Watch for Almburg Auction Signs, Just ½ mile west of Rt. 47 on Harter Road, North of Sugar Grove.
Saturday October 27th Starting at 9:30 a.m.
* Quality Mechanics' Tools * Trailers *
MAC MACSIMIZER CLASS III SUPER STATION TOOL BOX. This 7ft professional box will be offered in 5 units. Top 10 drawer 5ft box, Bottom 20 drawer 7ft box and 3- 2ft x 5.5ft side cabinets. You can buy 1 piece or all. Sells at no reserve! Step up to a real Pro's Box!
2008 Dodge Ram 2500 Big Horn Edition 4×4, Gas 5.7 Hemi, 4 door, short box Pickup. This is a One Owner truck, Steve bought brand new and has been under his care ever since. This truck has many extra's including Line-X spray on liner, After market 315-70/ R17 tires and rims, Cap, running boards, tow package and will sell with a Western 8ft Ultra Mount pro plow w/ Ultra Finish. Truck has 91,600 miles and will also sell with a extra set of B.F.Goodrich All Terrain tires on stock Dodge chrome rims. Truck is ready to plow, haul or cruise. This truck shows no rust, and has never been damaged.
16ft United Cargo trailer, 80" wide, Trailer has fold down rear door and side door. Trailer sells with 3 spares, moving blankets and box full of ratchet straps. 16ft x6ft flatbed trailer, No Title, used off road has wood deck, electric winch and sells with aluminum ramps. Motorcycle pull type cargo trailer, Ari-Fab Vac trailer with motor; sells
MECHANICS' HAND TOOLS AND EQUIPMENT.
Mr. Koz was a professional diesel truck mechanic. Many of the tools are for that profession. We will have hayrack loaded with hand tools and sets. Many Mac and other brands; Air tools, Power tools, Grinders, drills, He had tools that filled that Macsimizer Tool Box. We will also be selling lots of log and load chains, binders, several good trailer tires and truck trailers; Several other tool boxes; craftsman air compressor; Ridged power pipe threader; plumbing fittings; jack stands; storage boxes; tool cart; Lots of spare parts, hardware items and many other items used in the shop.
Terms: Cash, Checks, Credit Cards w/ 3% convenient fee added. Not Responsible For Accidents, Injury or Theft. Announcements made day of sale take precedence over all other advertisement. Hill's Purple Store Lunch on site, Yummy! Come dressed for the weather; bring your truck and a friend. All sells to the highest bidder, Join us for this great Estate Auction. Almburg Auction, Malta, Illinois. 815-739-3703. Pictures on web site www.almburgauctions.com
Estate of Steve Koz