Huge 2 Day Farm Equipment Retirement Auction March 1 & 2 2019 Compton IL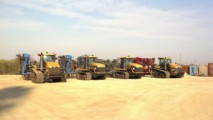 ** 2-DAY ** NO RESERVE RETIREMENT AUCTION ** 2-DAY **
VERY LARGE FARM EQUIPMENT AUCTION
MARCH 1st and MARCH 2nd STARTING AT 9:30 A.M. BOTH DAYS
Located at 907 IL-251, Compton, Illinois 61318
No Reserve Auction Spanning 2 Days Just 2 Miles North Of Compton, Illinois On Illinois Rt. 251 Or 12.5 Miles South Of Rochelle, Illinois On Illinois Rt. 251. Preview Of All Items The Week Before February 25th-28th, 9am To 5pm.
All The Farm Equipment, Machinery, Trucks, Trailers, Tractors And Attachments Are All Owned By The Muetze Family, No Consignments Here, And All Were Used In Their Large Grain And Nursery Operations. Listing To Include 4-JD24 Row Planters; 7-9 IH Semi-Trucks And Wilson Grain Trailers; 5-Cat/Claas-Lexion Combines; 5-12 Row Corn Heads; Folding Geringhoff 12 Row Corn Head; 6 Cat Challenger Tractors 4 John Deere MFWA 8420 & 8300 Tractors; Several Case And Bobcat Skid Steers; Lots Of Attachments; Krause 18ft Rippers; Miller Nitro w/ 120ft Boyd boom; Hagie Sprayer 1000gal sprayer w/ 90ft boom; 3-Hagies With 60ft, 90ft & 100ft Booms; Brent Grain Carts; ; Salford 12 btm plow; 10-11-12 Bottom IH 800 Plows; Rite-Way 81ft Roller; Several Parts Tractors And Equipment, Duals, Weights, Iron Flatbed Trailers, 10-15 AA Tanks On Gears; Gravity Wagons And Much More.
**Large Assortment Of Classic "Old School" Tractors And Farm Equipment Such as Case, Minneapolis-Moline, IH, Oliver, Massey Ferguson tractors and machinery; Gators & Kubota UTV's; Storage trailers; Flatbed trailers & dollies; older trucks.
Planters:
JD 1770 CONSERVATION 24 ROW, 30" PLANTER. 20/20 MONITOR; E-SET CORN; JD BEAN PLATES; LONG PARALLEL ARMS; PRECISION PLANTING HYD. AIR COMPRESSOR; YETTER ROW CLEANERS, PRECISION PLANTING ROW COMMAND; AIR CLUTCH, AIR FORCE UP AND DOWN AIR BAGS; GROUND DRIVEN. 
JD 1770NT 24 ROW, 30" CCS PLANTER, WITH 24 SEED BOXES & INSECTICIDE BOXES; E-SET DISCS; BEAN PLATES, LONG PARALLEL ARMS; GROUND DRIVEN; NO-TILL YETTER COULTERS; HYD AIR COMPRESSOR; PRECISION AIR FORCE UP & DOWN BAGS; FLOATING ROW CLEANERS W/ PRECISION PLANTING CLEAN SWEEP; 20/20 MONITOR; TRU-COUNT AIR CLUTCHES. Has 2600 display the sells with it. Never hooked up not sure if software is in it.
JD 1770 CONSERVATION 24 ROW 30" PLANTER. 3 BUSHEL SEED BOXES; DAWN ROW CLEANERS; VACUMETER; PNEUMATIC DOWN PRESSURE FRAME; FLEX FOLD WALKING GAUGE WHEELS. BROWN BOX MONITOR.  
JD 1770NT 24 ROW 30" CCS PLANTER. VARIABLE RATE DRIVE; PNEUMATIC DOWN FORCE; TRU-COUNT AIR CLUTCHES; JD RATE CONTROLLER; YETTER ROW CLEANERS; AMVAC SMART BOX INSECTICIDE; PRO SHAFTS; E-SET DISCS; HYD. AIR COMPRESSOR; 20/20 MONITOR;
***GS2600 DISPLAY with ITEC Pro SF2 unlock for the auto steer and JD rate controller will sell after the planters. This system was used on both 1770 NT planters.
TRACTORS:    John Deere 8420 ser. 031588
John Deere 8420 ser 026239 9916 hrs.     
John Deere 8330 MFWD 480/80R46 rear 420/90R30 frt. extra Hyd. valve High vol. pump Green Star ready, 2600 Monitor w/ hi tech. W-SF2 unlock ser. 022727 4668hrs. 
John Deere 8300 ser. 011622                    
Case IH 9350 3 pt. PTO                            
Case IH 9330 Row Crop Special 3pt. PTO  
Sprayers:
Hagie ST10 90 ft. booms
Miller Nitro 3200HT 120 ft. Boyd Aluminum booms
Hagie 284 60ft Boom Cummins                                                     
Hagie 280 Y Drop set up 60 ft. booms                                                          
Hagie 280 60 ft. booms
Combines:
Lexion 585R
Claas Lexion 750
Class Lexion 750
Lexion 570R
Bill is Retiring And All The Farms Have Been Rented Out So Everything Must Go!
We Will Provide Free Loading Of Items Up To 1 Week Following The Auction.
The Auction Will Be Live On Site And Several Larger Items Will Be Sold In Real Time On The Internet Thru Bid Caller Powered By Tractor House. You Can Bid and Buy Either Way, live on site or from the comfort of your home office.
**Mark Your Calendar Now!! Bring A Friend, A Truck, A Trailer And Join Us For This One Of A Kind 2-Day No Reserve Auction…Everything Must Go..
We Will Have An Updated List Of All Items Selling And On Which Day They Will Be Sold, Keep Watching This Site
Or Check Or Website Out  @ www.almburgauctions.com
Almburg Auctioneering Inc Auctioneers  Malta, Il.
Steve Almburg 815-739-3703 Andrew Almburg 815-739-3771 Adam Almburg 815-739-1413.
Poplar Farms,Inc; William Muetze Owners.