Real Estate Auction July 20 DeKalb IL 11AM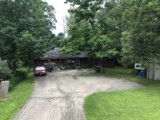 *REAL ESTATE AUCTION*
Since I have moved into the retirement home I will offer our home at Public Auction on Site at 119 Greenwood Acres Drive, Dekalb, Illinois. Watch for Almburg Auction Signs off Sycamore Road.
Saturday, July 20th Starting at 11:00 a.m.
This home was built by the Pierces over 50 years ago and was one of the 1st homes on Greenwood Acres Drive. It has a prime location on the Kishwaukee Country Club golf course with a lot size of 92.5ft. across the golf course and 186ft deep. The property has city water and private septic. The property is also improved with a single story ranch house with basement. The house is in major need of renovation however, it has been empty over the winter and has roof and basement issues. The property will sell with many items of furniture and household items. You need to really put your eyes on the home to decide whether demo or rebuild would be your best option. We will however have a small personal property auction after the Real Estate that will have many Harley Davidson toys and collectibles that were owned by the Pierces over the 50 plus years they ran the Harley dealership, many interesting items, watch this paper or our website for details and pictures.
Tax ID#08-13-101-002. Taxes are $3,592 with 2 exemptions. This home is in one of the nicest neighborhoods of Dekalb. This would make a great flip or investment property, not many locations for sale on the Country Club golf course! Interest and construction rates are low, Talk to your lender NOW and come ready to bid your price at Auction!
**Open house Wednesday, June 26th 5-7p.m.**
Terms: $5,000 down on auction day. Balance Due On Or Before July 31st 2019.
Deed Transfer, Title Commitment in Sellers Name Provided By Sellers. Property Being Offered As Is, Without Any Contingencies To Financing Appraisal Or Any Other Type Of Contingencies. Announcements Made Day Of Sale Take Precedence Over All Other.
Almburg Auctioneering Inc. Malta, IL. Steve, Andrew & Adam Almburg Auctions.
Pictures on web www.almburgauctions.com
Eleanor Pierce Trust 102, owner.