Retirement Tool and Machine Auction 9/14/19 Compton IL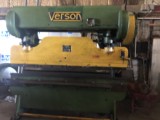 * LARGE MECHANICS SHOP & MACHINE TOOL AUCTION *
Since we are retiring from our large nursery and grain farming, this will be our final auction as we will be selling our complete shop, of tools and supplies at no reserve to the highest bidder, located Just 2 Miles North of Compton, Illinois on Illinois Rt. 251 or 12.5 Miles South of Rochelle, Illinois on Illinois Rt. 251. Preview Of All Items Friday Sept. 13th, 9-5.
SATURDAY SEPTEMBER 14TH STARTING AT 9:30 a.m.
* Hand Tools * Mechanics tools * Machining tools * Parts Bins * New hardware & supplies *
Live Web Cast Bidding Click below!
Muetze Tool Auction
Coll T-400 Hydraulic hose crimper machine sells with cut off saw, fittings and cabinet; several hyd fitting cabinets loaded; Enerpac portable hyd hose crimper to take to the field and fix Hyd hose; Striker wrenches; ¾-½ sockets, ratchets, hammers, clamps, breaker bars, tire tools, 50ton hyd and other jacks, air tools, Grey truck air jack, Good-All start pac; Hotsy hot water pressure washer, Several hyd cherry picker hoists; pulley pullers, welding tables, large vises, chain hoists, Generac portable generators; John Beam Tire changer machine, power tools, grinders, port-a-powers, tap & dies, power cords, lights, storage cabinets, retractable air hose and cords, Several Kar, Lawson and Barns parts bins just loaded with every fastener you will ever need, each one sold loaded. Many other specialized construction, equipment hand and power tools.
Machine tools * Welders: HPSN-500 Iron worker; Large Hydraulic Powe Pack. Electric motor drives hyd pump that powers large press included Power pack can run any hyd driven item. A must for your shop, lots of uses; Verson 50 ton press w/ tool holder and die; 3-Bridgeport Mills, 2.h.p., 2 digital; EX-Cell-O Mill; Mill Port; Mill vises and tooling; 1-B nibbler; Several Horizontal band saws, Kalamazoo, Johnson & others; Several metal Lathes, Do-All w/ auto feed, Emco, Sharp 1528, Sharp 1540; IR 7100 , 242, T-30 Horizontal 3ph. Air compressors; IR portable air compressor w/ 11h.p gas engine; Excel shear punch; Several Gang Drills; Miller Bobcat 250NT welder w/ 20h.p. LP gas engine; Miller 350 CC/CV welder, Century 50amp Plasma Cutter; Hobart smooth cut 120 plasma cutter, Amcut lage table trace cutter, Century 225 wire feed welder, 5- Miller CP-200 3ph welders; Hobart Micro wire MC-800 welder, ½ ton gantry hoist, Challenger 2 post car/truck hoist, 2 ton A frame shop hoist;
Skid Steers: BobCat T-650 skid steer w/ Joystick control, enclosed cab with door, spring ride suspension, Bob-Tach, Large bucket, shows 3500 hrs. 5-Hydra-Mac 2250 Skid Steers, hand controls, 1 w/ T-handle control, all with Isuzu diesel glowplug 74H.P. engines. 1-Hydra-Mac 2650 skid steer, foot and hand controls w/John Deere 90H.P. diesel engine; 1- Hydra-Mac 3250 skid steer, Hand Controls w/ John Deere Turbo diesel 110H.P. good heavy duty tight machine. All should have buckets, check before bidding to make sure; Other misc. skid steer attachments; several stabilizers will sell and tree spades for skid steers also.
Auctioneers Note**All The Shop equipment, tools, supplies, construction skid steers And Attachments Are All Owned By The Muetze Family, No Consignments Here, And All Were Used In Their Large Grain And Nursery Operations. Bill is Retiring And All The Farms Have Been Rented Out So Everything Must Go! We Will Provide Free Loading of Items, sale day till 6:00 p.m. Monday 8:00 a.m-2:00p.m. Larger machine tool removal by appointment! ** The Auction Will Be Live On Site And Several Larger Items Will Be Sold In Real Time On The Internet Thru Hi-Bid. You Can Bid and Buy Either Way, live on site or from the comfort of your home office, we encourage you to be registered to bid 48 hours prior to auction. On-Line Bidders can register on AuctionTime.com or Almburg Auctions.com **Mark Your Calendar Now!! Bring a Friend, Truck, & Trailer. Join Us at this no-reserve Auction. All must Go! Auction terms: : 10% Buyer's Premium on all items sold. Cash, Check Credit Cards with a 3% convenience fee added to all charge card usage. *Any internet bidding thru HiBid will have a 16% Buyers Premium added to each item bought.** Buyer understands that any description given or written on the equipment is not guaranteed and will rely entirely on their own inspection. All the information we provide for this item such as Serial Numbers, Weights, Horsepower, Lift Capacities, etc.is taken from sources generally deemed to be accurate, but not guaranteed. Hour meter readings or mileages are unverified information and accuracy is not guaranteed in any way and is the winning bidder's responsibility to verify prior to purchase. We do not guarantee listing information but provide it for your assistance. Announcements made auction day take precedence over all other advertisements. All Items Settled For On Auction Day. Not Responsible For Accidents, Injury or Theft. Poplar Farms,Inc; William Muetze Owners.
ALMBURG AUCTIONEERING, INC, MALTA, ILLINOIS
Steve 815-739-3703 Andrew 815-739-3771 Adam 815-739-1413 Auctioneers.