Construction Retirement Auction : Tools * Loader * Ford September 21, 2019 Sandwich IL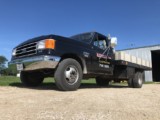 *PUBLIC AUCTION*  
After 60 years in the Construction building and excavating trade, we have decided to retire and sell the following listed items at no reserve to the highest bidder, located at our shop located at 485 Duvick Road, Sandwich, Illinois. East side of Sandwich, on Rt. 34 to Duvick. Watch For Almburg Auction Signs.
SATURDAY SEPTEMBER 21st Starting at 9:30 a.m.
International 2400 diesel loader tractor, Bought New with only 1474 verified hours!! Used for very light work, always stored inside. Has IH 2050 hyd loader w/ 5-1/2 ft. bucket, 3pt, 540 PTO. Sells w/ rear counter weight block, ROPS and fork attachment. You will not find a nicer loader tractor of this age anywhere!
1988 Ford F-350 Dually flatbed truck. This truck is also a one owner. Only 32,891 Verified miles. Truck has always been stored inside and washed and waxed, not driven or used in the winter and it shows it, virtually rust free!. Interior is like the day it was bought. Sells with a 7-1/2 x12ft flat bed w/ small wood side and solid wood floor. 7.5 V-8 engine, auto trans and 161 WB.
Cu Cadet RZT mower / 42" deck; Servis 3pt. Box grader w/ teeth, 5-1/2ft; Gill 6ft Pulverizer, 3pt; Woods Dixie Cutter 5ft 3pt mower; Danhauser PTO post hole digger w/ 12" and 24" augers; 2-wheel trailer for mower w/ tool box; Job site 60gal fuel tank w/ 12 volt pump; alum crossover truck tool box; 4ft and 5ft scaffolding on wheels; several wood ladders and saw horses; Transits.
Shop and Wood Working Tools Construction Materials
Bridgeport 1 h.p. Mill, 8 speed, 9"x41" table and tooling; Delta Uni-Saw w/tilting arbor; 9: vertical band saw; commercial DeWalt Radial arm saw; Hobart 4cyl gas generator from the 40's, the kind they parachuted in to the troops in WWII; Lincoln 225 welder; Oxy-Acetylene Cutting torch and tanks; Gas powered portable cement mixer; 3 Gas powered 6-8 kw portable generators; We will have a hayrack full of power hand tools; Lots of hand wood working tools, extra blades bits, nails screws wooden shop tables; Large selection of hardwoods for projects; Large assortment of dimensional lumber 2×4, 2×6, doors, windows and new steel siding; Steel and wooden shelving, work benches, parts bins, selling loaded w/ nuts, bolts, etc; Large selection of long handle tools; ext cords; oils and supplies; office equipment files, chairs; drawing/ drafting table 2- 30ft single axle semi trailers used as dry storage w/ titles however not road worthy.
Terms: Cash, Checks, Credit Cards with 3% transaction fee added to total charged. Not Responsible For Accidents, Injury Or Theft. A Very nice offering. Plenty of parking. Join us for this great Auction. Almburg Auction, Malta, Illinois.  815-739-3703
REDDEN BROS. CONSTRUCTION, owners