Real Estate and Personal Property Auction DeKalb Ag memorabilia 10/12/19 Cortland IL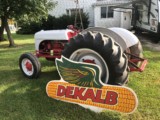 SOLD $100,000
*REAL ESTATE AUCTION*
In order to settle the estate of Dorthy Benson, The Following house and buildings will Be Offered At Auction Located On Site At 245 South Somonauk street in Cortland, Illinois.
Saturday October 12th offered at 1:00 p.m.
This property has been in the Benson Family since the early 1960's, and is in the Township of Cortland, not the Town. It has City water but its own septic system. The property has 330 ft of frontage along Somonauk Road with 2 entrances and make up about 1.25 acres, improved with a 2,100 sq.ft. 2 story farmed home, and 1,325 sq.ft. Morton building for storage and workshop area. The house has 4 bedrooms with 2 ½ baths. It is set up for a 2 unit, but is non-conforming. This property is surrounded by the town of Cortland on all sides, but remains for now in the Township of Cortland. Many possibilities here for improvement. This would make an ideal property for investment or income.
Tractor * Lawn Equipment * Parts * DeKalb Seed Memorabilia
1939 Ford 9N tractor runs and operates there is a Loader that isnt attached at the moment but will sell after the tractor; Kubota Diesel Tractor with mower B6100E 2wd; 2 bottom Mounted plow; John Deere 140 with mower; Toro Pony rear tiller; Toro Edgers; Toro super recycler mower; Toro edger; Toro walk behind blower w/ bagger; Motorized post hole diggers with auges; 36″ pull roller; agrifab pull fertilier Spreaders; 43″ Gandy Turf Tender; 48″ pull roller, Boehlens Garden tractor with cultivator; Single bottom plow for Garden Tractor; Lots of lawn hand tools; 5 ft gill aerator; 60″ 3 pt hitch Mower; Work Benches; Parts Cleaner; Metal shelving and more garden and shop tools.
DeKalb Seed Corn signs from the 80's around 8-12 signs only a few left handed so you can have a double sided sign. Many DeKalb winged ear magnets for the side of pick up trucks; Furntiure: Chest of drawers; gun rack; 2 white wooden patio furniture; vintage radios; Buffet 2 vertical book shelves; 1 solid wood 3 tier book shelf; love seat; couch; lamps; Desks and office chairs; Lawn ornaments; Benson made concrete ducks;
TERMS ON REAL ESTATE: $5,000 Down On Auction Day. Deed transfer And Title Commitment In Seller's Name Provided By Seller. Taxes Will Be Pro-Rated To Closing Date On Or Before November 12th 2019. Property Being Offered As-Is Without Any Contingency To Financing, Appraisal, Or Any Other Type Of Contingency. Announcements Made Day Of Sale Take Precedence Over All Other. We will have a large personal property auction the same day and location tarting at 10:00 a.m. with lots of DeKalb Ag memorabilia, lawn tractors & equipment, furniture and collectible toys. Watch this paper or our web site for complete list and pictures…
NOW IS THE TIME TO INVEST IN REAL ESTATE. TALK TO YOUR LENDER NOW & COME READY TO BID & A VISION TO SEE WHAT YOU CAN DO WITH A PROPERTY LIKE THIS.
Steve & Andrew Almburg Auctioneers, Malta, Illinois. 815-739-3703.
Estate of Dorthy Benson, owner
Ronald Klein, Attorney, 815-748-0380