Huge 2 day Furniture and decor Auction Staging business liquidation Octobber 4th & 5th Sycamore IL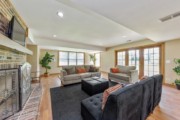 2-Day Huge Furniture Auction                                     
Since we are retiring and closing our Home Staging Business, We Will Sell The Following Items To The Highest Bidder At No Reserve, Located At 2150 Oakland Drive, Sycamore, Illinoisis, just east of Ollie's and Hy-Vee. (Watch For Almburg Auction Signs)  Pre Auction Viewing Thursday evening Oct. 3rd from 5-7 and Friday 9:00 a.m till sale time.
                       Friday Evening October 4th & Saturday October 5th                           
     Items selling on Friday October 4th Starting at 5:00 p.m: We will have a large amount of like new home decor all used in the home staging business All of these items have had very little wear. If you are in the need of decorating your home or business, this is the place to shop! Everything will sell at no reserve, the  building must be emptied out by Tuesday October 8th.  Glass and Brass table and floor lamps; Large assortment of nice area rugs; glassware; artificial plants, ferns, flowers, fall and holiday decor; Baskets; Planters; Shelving; Complete bedding sets with comforters, pillows and throws; Lots of great wooden shelves for storage, great for the basement or garage; folding tables; desks and office equipment; All of these items must be moved out after the auction on Friday to make room for the items selling on Saturday.  We will stay open as long as it takes for you to get your items loaded.
Items selling on Saturday October 5th Starting at 9:30 a.m.   We will have the warehouse and 4 GoMini storage containers full of sofas, side tables, easy chairs, Large selection of wooden chairs, some antique furniture, dining tables, kitchen tables, bedroom furniture, head boards, mini bars, high top tables, love seats, coffee tables wall hangings and pictures, all have had very little use and are in great condition. If you are looking to furnace a home or apartment, this is the place to be. Bid your price at auction. You Bid, You buy you Haul you Save! Load out on Saturday till 6:00p.m. Sunday 10:00a.m.-1:00p.m.   Terms: 10%  Buyers Premium on all items sold. Cash, Check, Credit Cards w/ 3% convenient fee added to purchase.  All items settled for on sale day. Not responsible for accidents, injury or theft. All items must be removed by Sunday October 6th at 1:00p.m.                   
Almburg Auctioneering, Malta, Illinois 815-739-3703.  Pictures on our web site at www.almburgauctions.com      Get It Sold Home Staging, Owners.