Farm Equipment, Tools, Shop Equipment Auction Doane Estate Holcomb IL 5/22/21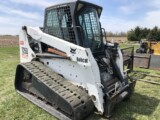 *LARGE EQUIPMENT ESTATE AUCTION*
In Order to Settle the Estate of William "Bill" Doane, The Following tractors, tools, trailers and equipment Will Be sold at NO RESERVE to the highest bidder At Auction Located on Site, at 13269 Holcomb road, Holcomb, Illinois. 9 miles north of Rochelle, Illinois on Rt. 251. Watch for Almburg Auction Signs.
Saturday, May 22nd Starting at 9:30 a.m.
* Bobcat Skider & Attachments * Collector Tractors * Mechanic's Tools *
Bobcat T-250 Skidsteer w/ 2600 hrs. High-flow, full cab, heat and AC work, Radio, Case drain, Aux Hyd. One owner machine. Ser#525611075. Quick-tach attachments sell after Skidder: 7ft G.P. bucket; 7ft Tooth bucket; Pallet forks; Hyd Tilting quick-tach plate; Quick-tach plate w/ Reese hitch; 8ft hyd angle snowblade; Bobcat 60 Sweeper; Bobcat Brushcat 60; Craft Pro75ss stump grinder w/ pony motor; Tink 6ft Trencher; Lowe auger sells w/10" bit; Other bits sell separate, 6",12",14",24"; Kubota RTV 900 Diesel 4×4, 910 hrs, full cab, hitch iin front and back, Hyd dump bed; Ser#62290; EX-Mark Lazer Z mower w/ 60" deck, power lift, 20h.p. gas V-twin, only 385 hrs; JD 345 Lawn tractor w/ 54" deck; Yamaha Grizzly 600 4 wheeler w/ on command 4×4, shows 1,931 miles; Like New Ariens Track Deluxe 28 Sno-Blower; Honda EB6500 Generator; Troy-Bilt Horse Roto-tiller; Gordon-Smith portable air compressor with Ford 351 engine, works and runs; Pace American 29ftx89" x 6ft 2" gooseneck enclosed trailer w/fold down rear ramp, side door built in winch, lighting and outlets. Last on road in 2009; 5×8 single axle trailer; 1989 GMI 16ft Flatbed tag trailer, Last on road in 2017; 1987 10ft tandem skidsteer trailer w/ ramps, kinda rusty, last on road in 2011; Non-Running 1993 Chevy 3500 shop truck w/Stellar EC3200 crane. Diesel engine blown. Truck is really clean w/4 speed. Dual wheels, 10ft steel flatbed, custom brackets for welders and tanks, deck vise and several good mounted tool boxes. Last on road in 2018.
Antique Collector Tractors IH 340T gas crawler w/ Midwestern Little Boomer 12ft Side boom. Tractor ran 20 years ago, Stored inside ready for you to add to your collection, Not many of these around. Counter weight has been repaired due to breakage; 1930 Twin City KT tractor, original and running; IH-H tractor, spoke wheels; Farmall F-20 tractor, stored inside, had Block repair, bad rear tire, not running but complete; McCormick-Deering 1020 tractor, not running, bad tires, stored inside;
Shop Tools, and other items. We will have 4 hay racks loaded with quality hand, mechanics, electric, power tools and supplies; lots of tool boxes; welders; chains, rigging, A-frame shop overhead hoist; Cherry picker; Hyd shop press; Loaded Bolt bins; Several steel top welding tables; 20 pallets loaded with all kinds of misc. tools, iron, pumps, hose, cables, chains selling by the loaded pallet full; 4 sections of steel pallet racking; 40ft, 36ft, 10ft, 6ft ladders; Auctioneers Note: Bill was a well known welder, fabricator and mechanic for over 40 years. You will find quality in his items being sold. Make plans now to join us for this great auction…Terms: Cash, Checks, Credit Cards w/ 3% convenient fee added. Not Responsible For Accidents, Injury or Theft. Announcements made day of sale take precedence over all other advertisement. Come dressed for the weather; bring your truck and a friend. We will provide loader on site. Pre-Auction viewing Thursday&Friday May 20,21 Noon-4:00p.m. All sells to the highest bidder, Join us for this great Estate Auction. We will be following Ogle County Heath Department Recommendations for Covid-19. Pictures on web site www.almburgauctions.com
Estate of William "Bill" Doane