Farm Retirement Auction Hampshire IL Saturday July 10th 10:30 AM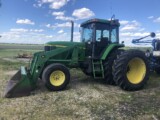 * FARM EQUIPMENT RETIREMENT AUCTION *
Since I have decided to retire from our farming operation and will sell following Equipment At Auction To The Highest Bidder At No Reserve, Located at Boncosky Grain Farms, 48W228 Rt. 72 Hampshire, Illinois.
Tuesday July 10th 2021 Starting At 10:30 a.m.
Tractors & Equipment
John Deere 7210 2 wheel drive tractor. One Owner with only 4357 hrs. Tractor will sell with John Deere 720 loader, 10 bolt JD hubs, duals and JD Quick Hitch. Tractor has 18.4-38 rears and 11.00-20 fronts, 3hyd and power beyond outlets. John Deere 2630 diesel tractor w/ 146 loader, 4200 hrs. Runs great. EX-Mark Lazer Z mower w/ 530 hours, one owner, 52" Ultra Cut deck; Kinze 3200 12 row planter, Only planter 3,500 acres, one owner planter has KPM monitor, Low Population seed disc, Vacuum Bean disc, Edge Vac, Yetter Shark Row Cleaners, and Naiux Disc openers. Really good planter.
Killbros 1195 Grain Cart, one owner, 16" unload auger, 900/60R32 tires, Roll tarp, 1000 PTO.
Hyster 50 Fork lift. Rough terrain, side shift, 3 stage lift. Very good running and operating older forklift.
John Deere 270 snowblower 7ft, 540 PTO; Woods Cadet 73 3pt mower; IH 3083 series B 3pt Back-Hoe; Winpower 20KW PTO Generator on trailer; Mayrath 8" 32ft PTO Truck loading auger; John Deere 115 Rear Blade 7ft; 150 gallon trailer sprayer with PTO pump DMI Big-Little side dump gravity wagon. Cae 12ft wheel disc, good shape. 8X16 Hay Rackon JD Gear.
Trailers & Truck
2006 Red Chevy 2500 4×4 pick-up truck. 92,600 mile Regular Cab w/ 8ft bed. Auto trans, Very clean and ery little rust. 2004 Road Boss 5×14 Landscape trailer, perfect for hauling the mowers or brush. Has wood floor, front winch and fold down mesh ramp. 2012 Atlas Enclosed Cargo Trailer 6×14, One Owner, Fold down rear door and side door;
Shop Tools
Pallet racking; North Star vertical Air compresso 220volt, runs great; Craftsman Radial Electronic arm saw;
Clark mig fan cooled welder; Lincoln 225 welder; Large Master Force Double Tool box;, 15 drawer; Bolt bins loaded; Craftsman 10" table saw; Steel work bench and vise; Western Pro-Plow 7ft, fits 96 GMC pick-up; Echo Back Pack gas blower; several weed eaters; Werner step ladders; 15ft Rope Wick; Weather guard toolbox; L shape fuel tank fits in pick-up; Karcher gas powered 2400psi Power Washer; Cherry picker hoist; othe toolboxes, lots of good mechinecs and hand tools; power tools long handle tools; and many more farm and shop related equipment accumulated after years of farming.
Terms: Cash, Check, Credit Cards w/ 3% convenient fee added. All Items Settled For On Auction Day. Not Responsible For Accidents, Injury or Theft. Videos & Pictures @www.almburgauctions.com. Almburg Auctioneers will have Loader Available sale day, so bring your trucks and trailers. All sells at No Reserve! Almburg, Auctioneers. Malta, Illinois. Andrew, Eric, Adam, Steve. 815-739-3703.
John Boncosky Grain Farms, Owner