Charity Auctions for 2018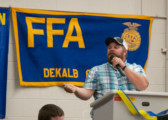 MARCH 10 ST. CHARLES BORROMEO SCHOOL AUCTION 6:00 P.M.M ST. MARY'S HALL, SYCAMORE, IL.
MARCH 11 INDIAN CREEK SCHOOL AUCTION 12:30 P.M. WATERMAN, IL AT THE NEW MIDDLE SCHOOL.
MARCH 17 NRA BANQUET 6:00 P.M. FARANDAS BANQUET CENTER, DEKALB, IL.
APRIL 14 KANE COUNTY 4-H FEDERATION PORK CHOP DINNER & AUCTION, 6:00 P.M. KANE COUNTY FAIR GROUNDS, ST. CHARLES, IL.
APRIL 29 CORNERSTONE CHRISTIAN ACADEMY AUCTION 6:30 P.M. AT THE SCHOOL, SYCAMORE, IL.