240 Acres DeKalb County Land Auction July 31st Waterman IL 3PM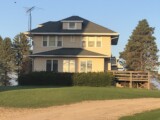 *240 ACRES* DEKALB COUNTY LAND AUCTION *240 ACRES*
THE FOLLOWING FARM WILL BE OFFERED, AT PUBLIC AUCTION, HELD ON THE FARM LOCATED AT 8484 CREGO ROAD, 2 MILES EAST OF WATERMAN, ILLINOIS ON RT. 30 TO CREGO ROAD, THEN SOUTH 1 MILE TO FARM..
SATURDAY JULY 31st @ 3:00 P.M.
THIS HIGHLY PRODUCTIVE FARM IS LOCATED IN SECTION 24 OF CLINTON TWP., WITH FRONTAGE ON CREGO AND BASTIAN ROADS.
THE FARM IS BEING SOLD AS 2 PARCELS EACH CONTAINING 120 ACRES M.O.L. AND WILL BE OFFERED BY THE SURVEYED ACRE PREPARED IN MAY OF 2021. Possession of crop land given after removal of 2021 crops. Buildings and house possession given at closing.
ALL REAL ESTATE TAXES FOR THE 2021 YEAR WILL BE PAID BY THE SELLERS. BUYERS WILL BE RESPONSIBLE FOR 2022 REAL ESTATE TAXES. THIS FARM HAS 2 PARCEL NUMBERS.
PARCEL #1 CONTAINS 120 ACRES, IMPROVED WITH A 1,975 sq.ft. HOUSE,  FARM BUILDINGS, SILO AND GRAIN BINS. TOTAL REAL ESTATE TAXES ON THIS PARCEL ARE $10,057.86. TAX ID 14-26-100-002.
PARCEL #2 CONTAINS 120 ACRES OF BARE FARM LAND. REAL ESTATE TAXES ON THIS PARCEL ARE $5,764.84. TAX ID #14-24-300-001.
THE FARM HAS 228 TILLABLE ACRES WITH 12 ACRES OF NON TILLABLE LAND WHICH CONTAINS THE BUILDINGS, HOUSE AND ROADWAYS.
**OPEN HOUSE FOR INSPECTIONS SUNDAY JUNE 6th 11a.m. to 3p.m.**
TERMS: $20,000 DOWN ON AUCTION DAY ON EACH PARCEL. BALANCE DUE AUGUST 31 2021. SELLERS WILL PROVIDE GUARANTEE TITLE COMMITMENT AND SURVEY. ANNOUNCEMENTS MADE DAY OF SALE TAKE PRECEDENCE OVER ALL OTHER ADVERTISEMENT. PROPERTY BEING SOLD AS-IS WITH NO CONTINGENCIES.
CALL STEVE ALMBURG ANY TIME TO INSPECT HOUSE AND BUILDING SITE.
AUCTIONEERS: ALMBURG AUCTIONEERING, INC., MALTA, IL.  815-739-3703.
 CLARENCE W. THORPE TRUST 101, owner
James Stoddard, Attorney for seller 815-748-0380