240 Acres DeKalb County Land Auction & Farm Equipment July 31st Waterman IL 10:30 AM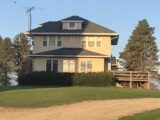 *240 ACRES* DEKALB COUNTY LAND AUCTION *240 ACRES*
THE FOLLOWING FARM WILL BE OFFERED, AT PUBLIC AUCTION, HELD ON THE FARM LOCATED AT 8484 CREGO ROAD, 2 MILES EAST OF WATERMAN, ILLINOIS ON RT. 30 TO CREGO ROAD, THEN SOUTH 1 MILE TO FARM..
SATURDAY JULY 31st @ 3:00 P.M.
THIS HIGHLY PRODUCTIVE FARM IS LOCATED IN SECTION 24 OF CLINTON TWP., WITH FRONTAGE ON CREGO AND BASTIAN ROADS.
THE FARM IS BEING SOLD AS 2 PARCELS EACH CONTAINING 120 ACRES M.O.L. AND WILL BE OFFERED BY THE SURVEYED ACRE PREPARED IN MAY OF 2021. Possession of crop land given after removal of 2021 crops. Buildings and house possession given at closing.
ALL REAL ESTATE TAXES FOR THE 2021 YEAR WILL BE PAID BY THE SELLERS. BUYERS WILL BE RESPONSIBLE FOR 2022 REAL ESTATE TAXES. THIS FARM HAS 2 PARCEL NUMBERS.
PARCEL #1 CONTAINS 120 ACRES, IMPROVED WITH A 1,975 sq.ft. HOUSE,  FARM BUILDINGS, SILO AND GRAIN BINS. TOTAL REAL ESTATE TAXES ON THIS PARCEL ARE $10,057.86. TAX ID 14-26-100-002.
PARCEL #2 CONTAINS 120 ACRES OF BARE FARM LAND. REAL ESTATE TAXES ON THIS PARCEL ARE $5,764.84. TAX ID #14-24-300-001.
THE FARM HAS 228 TILLABLE ACRES WITH 12 ACRES OF NON TILLABLE LAND WHICH CONTAINS THE BUILDINGS, HOUSE AND ROADWAYS.
The Following Farm Will Be Offered, At Public Auction, Held On The Farm Located At 8484 Crego Road, 2 Miles East Of
Waterman, Illinois
On Rt. 30
To Crego Road, Then South 1 Mile To Farm.. 2 Story Family Farm House, 5 Bedrooms, Hardwood Floors And Trim, 5 Panel Solid Oak Doors, Walk Up
Attic, Full Basement, 240ft Well With 900 Gallon Per Minute Pump. The House Will Be Offered At Auction Along With 120 Acres Of Farm Land And Several
Outbuildings For Equipment Storage And 3 Grain Bins. Property Is In Indian Creek School District And Waterman Fire District. All 2021 taxes paid by
sellers. Total Real Estate Taxes On This Parcel Are $10,057.86. Tax ID#14-26-100-002.
Terms:
$20,000 Down On Auction Day. Balance Due
August 31 2021. Sellers Will Provide Guarantee Title Commitment And Survey. Announcements Made Day Of Sale Take Precedence Over All Other
Advertisement. Property Being Sold As-Is With No Contingencies. Call Steve Almburg Any Time To Inspect House And Building Site.
Auctioneers: Almburg Auctioneering, Inc., Malta, Il. 815-739-3703.
CLARENCE W. THORPE TRUST 101, owner
James Stoddard, Attorney for seller 815-748-0380
**OPEN HOUSE FOR INSPECTIONS SUNDAY JUNE 6th 11a.m. to 3p.m.**
TERMS: $20,000 DOWN ON AUCTION DAY ON EACH PARCEL. BALANCE DUE AUGUST 31 2021. SELLERS WILL PROVIDE GUARANTEE TITLE COMMITMENT AND SURVEY. ANNOUNCEMENTS MADE DAY OF SALE TAKE PRECEDENCE OVER ALL OTHER ADVERTISEMENT. PROPERTY BEING SOLD AS-IS WITH NO CONTINGENCIES.
CALL STEVE ALMBURG ANY TIME TO INSPECT HOUSE AND BUILDING SITE.
AUCTIONEERS: ALMBURG AUCTIONEERING, INC., MALTA, IL.  815-739-3703.
OPEN HOUSE FOR LAND AUCTION JUNE 6TH, 11AM-
3PM.
*240 ACRES
*

DEKALB COUNTY

LAND AUCTION

*
240
ACRES*
Farm Equipment Auction we be sold prior to the land starting at 10:30 AM All Tractors and Combine will be fully service with oil changes and filters and will be field ready!
2010 Versatile 2375 4WD, 12 spd. trans., 2548 hours, AC, AM-FM-WB-CD radio, 1000 PTO, 4 hyd. outlets, 20.8X42 tires & duals,
2012 Kubota M-135X, FWA, 16 spd. powershift, 1512 hours, AC, AM-FM-WB-CD radio, 540 & 1000 PTO, 3 hyd. outlets, 9400 lb. 3pt. Complete front weights
2005 Kubota M-7040, FWA, 8 spd. hyd. shuttle, 1688 hours, 540 PTO, 1 hyd. outlet, 3 pt., Sells Kubota LA1153 loader
1965 John Deere 4020, synchro, 9185 hours, 540-1000 PTO, single hyd. outlet, 900 hours on complete overhaul
2001 CIH 2366 combine, 3043 eng. hours, 2333 rotor hours, AC, AM-FM radio, 600 series grain monitor, 30X32 tires, Rock Trap, hyd. reverser, 2 spd. rotor, Mauer foldable bin ext., 2 spd. chopper,
 2007 KatoLight 85 KW 3 phase Generator with 50′ of #4/0 AWG electrical cable, 1000 PTO
1965 Winco 15 KW single phase generator, 540 PTO
2- 1055 Killbros 550 bushel wagons, lights, brakes, super single tires
3- EZ Trail 400 bushel wagons on 1374 EZ Trail gears, 16.5X16.1 tires
2- Bradford 316 bushel wagons on 1074 EZ Trail gears
Barge box with hyd. lift
Farm King 10″X80′ hyd. lift auger with swing away hopper (1998)
Farm King 10″X70′ hyd. lift auger with low profile swing away hopper (2010)
Feterl 10″X72′ hyd. lift auger with swing away hopper (2012)
Hutchinson 8″X32′ electric 3 phase auger, 7 1/2 hp., (2007)
Feterl 10″X44′ auger with hopper
2016 Kinze 3200 12 row Econo Fold planter, KPM 3 monitor, Kinze bean meters & corn fingers, hyd. fold markers, no-till lead coulters, row cleaners, 1/2 planter electric shutoffs, center flex frame, 612 acres of corn & 918 acres of beans planted
Hardi Navigator 1000 gallon sprayer, 60′ booms with hyd. tilt, triple nozzle bodies, chemical inductor, foam markers, Hardi 2500 controller, Hardi diaphragm pump, 540 PTO, 12.4X42 tires
CIH 1063 corn head with transport trailer, 6 row 30″
IH model 820 20′ grain head, pipe reel with a 672 EZ Trail 21′ head trailer (Youngs Agri Service style head)
Blue Jet ST2 5 shank inline ripper with spring & fall points
Unverferth model 300 3 pt. implement caddy
CIH model 530 B Ecolo Tiger disc ripper with 2″ straight points, 7″& 10″ wing points, rear mounted leveling disks
John Deere model 726 soil finisher, 21'9″ width, 10″ sweeps, 5 bar mounted spike drag
Land Pride Rear Blade model RB55120, hyd. tilt, hyd. swing, moldboard can be turned 180 degrees for rear pushing
Woods 2012 Batwing model BX180XQ 15'rotary cutter, foam filled tires, chain shielding 1000 PTO 1.375″
Woods 2011 Backhoe model 1050, 18″ bucket, 3 pt. hitch mount, PTO run hyd. pump (new)
Farm Fan Inc 2007 model CF/AB 460 bushel grain dryer, 3 phase, LP burner, with inline Kleen Air grain cleaner, 1900 hours
Brock Wet Bin 2007 model 3500 bushels with 8″ auger, 10 hp 3 phase motor
100 gallon portable fuel tank with 12 volt pump & filter on a 3pt hitch carrier
20′ silo conversion kit with aeration floor, 27′ unloading auger with 5 hp. motor, 5 hp. fan, 10′ bin sweep, kit includes 190 cement blocks & 2″x8″s,  63′ of flashing
older woodworking equipment: table saw, band saw, misc. hand saws & drills, screws & nails
misc. shop tools, wrenches, jacks, bolts etc.
1-Lincoln 225 amp AC welder & 1-Westinghouse 300 amp AC welder with 100% duty cycle
1-60 gallon air compressor & 1 portable 30 gallon compressor
1 set of 18X38 auger tires & 1 set of auger ramps
 CLARENCE W. THORPE TRUST 101, owner
James Stoddard, Attorney for seller 815-748-0380