SOLD $ 204,000
*LARGE ESTATE AUCTION*
*COUNTRY FARMETTE REAL ESTATE AUCTION*
In order to settle the Estate of Edward Deeke, The Following tools, collector cars, tractors, equipment and antiques be sold to the highest bidder at no reserve auction, Located At 1273 Heal Road, Malta, Illinois. Located just 3 miles west of Malta on Rt. 38 to Quitno Road, then north 2 miles to Heal Road, then east 1/8 mile. Watch For Almburg Auction Signs.
SUNDAY AUGUST 28TH Starting at 10:00 a.m.
Antiques * Collectible Cars * Tractors * Tools *
1969 Corvette Sting Ray, 350ci, 350 h.p., Auto, T-tops, 55k miles. Runs & drives. All original condition number matching, car. Sells at No Reserve.
1962 Chevrolet Impala, 327, Auto, 4-door. All original, a Classic Barn find. Not running, but everything appears to be there. Factory Air, and Factory Power brakes! Needs your restoration touch. Sells at No Reserve!
1927 Chevrolet Landou Sedan. Ed was in the middle of restoring this classic when he passed. All the parts seem to be there, 4 new tires. All this needs is your restoration touch. Sells at No reserve!
1995 Chevrolet Caprice Classic Wagon. 133K cold air, Dual exhaust, Full tank of gas. Ride & drive.
*Tractors * Equipment * Tools*
Allis Chalmers WD45 with Allis Chalmers Model 23E40 Road Grader. Hyd lift. Great piece for the collector. May be running by auction; Allis Chalmes WD45 tractor with Henry Hyd loader and Henry Back-hoe. This unit runs and works!; Allis Chalmers "CA" tractor, wide front, runs nice;
IH 404 Gas tractor, wide front, utility style, can't get 3pt to lift. Runs fine; IH Cub 154 Lo-Boy w/ IH belly mower, runs fine; John Deere GX335 Lawn tractor, hydro, w/ JD mower deck and Snowblower, 1,111hrs, runs great; Case 644 Garden Tractor w/ Case loader and 3pt. sells with rear mtd roto tiller, All work fine; Case 446 Garden Tractor w/ Case belly mower and snow blower. Not started; Case 444 Garden Tractor w/ Belly mower, not running; IH Cub Cadet 1450 Hydro Garden Tractor, not started. Several smaller push mowers weed whips, small tillers, lawn sweepers and yard trailers. We will have large hay rack LOADED with hand tools, mechanics tools, power tools, air tools, long handle garden and carpenters tools. We will have several tool chests and roller cabinets; parts bins; work benches; vises; drill press; table saws; Dewalt 12" planner; Lots of storage cabinets and shelving; Chains; Binders; Ratchet & tow Strapping; Air America 6.5 h.p., 60 gal. Vertical Air Compressor; Sandborn 1.5 h.p. air compressor; Gas powered pressure washer; gas generator; We will have a hay rack LOADED with all types of oils & grease, spray lube, & hardware items from soup to nuts & bolts; parts bins; Plus much more shop equipment and hardware items.
*Antique Furniture and Household.* Antique Sellers Kitchen Cupboard, very nice; Oak Dresser with large back mirror;
Gentleman's Dresser w/ hanky drawers; old antique rockers; several nice antique dressers, glass knobs; twin beds; night stands; Antique Sewing cabinet; Maple dining table w/ chairs; several other odd wood chairs; country collectible wood stenciled boxes and crates; old Tonka toys; and other farm toys; Milk Can; Buggy Seat; old farm wood; other modern furniture; kitchen and housewares; And many more items of interest and collect-ability. Terms: Cash, Check, Credit Cards w/3% administration fee. Loader available sale day, bring your trucks and trailers. Not Responsible For Accidents, Injury or Theft. Patriot Dogs lunch. A Very nice offering. All personal property sells to the highest bidder at no reserve!
Real Estate offered at 1:00 p.m. 5 acres with 2 Morton sheds & Ranch Style house.
The 5 acres is Improved with a 1400 Sq.Ft. Ranch Home, Full Basement, Attached 2 Car Garage With Basement Entrance. The House Has Electric Heat, 3 Bedrooms And A Brand New Septic System, And The Roof And Siding Are In Great Shape. Along With The House There Are 2 Morton Pole Sheds. 42×50 & 45×66. One is full cement floor and 2 large sliding doors. Both have loft storage. Both have Electric. The Property Has Approximately 4 Acres That Are Fenced In And In Pasture. The Property Is Zoned A-1 and Has Frontage On Heal Road. Taxes are $5,670 with NO EXEMPTIONS. It Is In The Rochelle School District, Malta Township And Malta Fire District. If You Been Waiting To Make A Move To The Country, Now Is The Time. Interest Rates Are At A Historic Low. Talk To Your Lender Now And Bid Your Price At Auction!!
Pictures on Our Web Site WWW.ALMBURGAUCTIONS.COM.
Term's For Real Estate: $10,000.00 Down on Auction Day. Balance Due On Or Before September 28th, 2016. Property Being Offered As Is, With Out Any Contingencies To Financing Appraisal Or Any Other Type Of Contingencies. Sellers Will Pay For The Survey And Title Commitment For Sellers. Real Estate Taxes Pro-Rated till closing. Announcements Made Day Of Sale Take Precedence Over All Other. Almburg Auctioneering Inc. Malta, Il. Adam, Andrew, Eric Steve Almburg. 815-739-1413.
Edward Deeke Estate, Owner. Ron Klein, Attorney for Sellers 815-748-0380
Guns sell at 12 noon. Must have Current FOID card to bid. Guns will be held. Pick-up in Sycamore at COPS gun Store. $15.00 Added on to each gun sold for administrative fee.
#1 Walther P.38 Pistol, 9mm Holster and extra mag. Has WWII Nazi markings.
#2 Winchester 62A Rifle, .22Long.
#3 H&R Arms 1904 Revolver .38 S&W.
#4 H&R 22SPL Revolver .22L
#5 UNK Shotgun ML 12ga.
#6 H&R UNK Revolver .32 S&W Long
#7 Smith & Wesson Model 2 Army Revolver .32 S&W /Rimfire, Circa 1861-1874.
#8 Ithaca M1911A1 Revilver .22L.
#9H&R UNK Shotgun 12ga.
#10 Winchester Mod 12 Shotgun 12ga.
#11 Remington 870 Shotgun 12ga.
#12 Iver Johnson Champion Shotgun 12ga.
#13 Springfield Arms SXS Rifle .22L.
#14 Winchester 74 Rifle .22L.
#15 Stevens Arms Springfield 87M Rifle .22L.
#16 Savage Match 64 Rifle .22L.
#17 F.Bannerman 1890 Shotgun 12ga.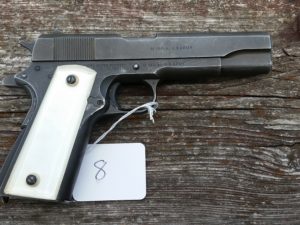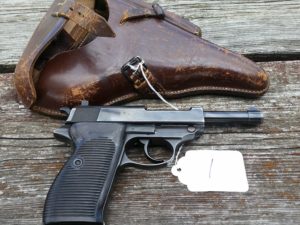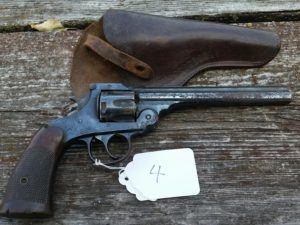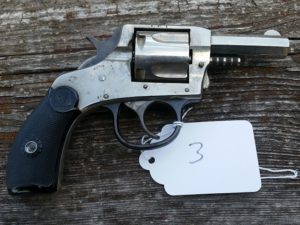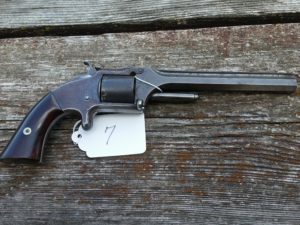 Almburg Auctioneers, Steve, Andrew, Adam, Eric
Edward Deeke Estate, Owner.
RON KLIEN, ATTORNEY FOR SELLERS 815-748-0380